Brooke Roberts-Islam
London Fashion Week delivers elegance and mathematical proportions
In continuation of London Fashion Week's Films, Fraying and Frizz, the second instalment of my fashion week roundup starts at with Belstaff, in collaboration with (an elusive) Liv Tyler.
The Belstaff presentation could scarcely have been more different from the others I have experienced. It occurred to me that a show format would have made it easier to see the clothes. Being a bigger brand with a larger captive audience, it was in a basement sauna of winter woolies and leathers with a biker-lite /polar vibe and a melee of guests enjoying the wares and fizz. The show notes stated that the collection was inspired by 'female pioneers venturing into the earth's most bleak and hard-to-reach locations in the most challenging of conditions'. Polar pioneer Christina Franco was named as a special guest, which I only discovered after re-reading the show notes for this article. I can think of at least a dozen questions about protective clothing and design I'd have fired off in her direction. I bumped into a couple of old friends and had a chat with Jonathan Saunders (whose mate designed the collection) on the way out, so it was suitably fashion-y and fizzy.
Belstaff AW16 and projected inspiration imagery
Huishan Zhang offered up the most elegant and serene of presentations at The Connaught in what felt like the coming together of two perfect halves – the romantic decadence of the location and the gently elegant and luxuriously refined clothing. The clothes screamed, or rather elegantly asserted, a grown-up ladylike appeal and I passed Linda Fargo on my way out, further confirming their level on the elegance stakes. Look out for Huishan Zang in Bergdorf Goodman next season?
Huishan Zhang AW16
Production: Rachel Pelly and Pearl Van Den Ende – Stylist: Maya Zepinic @ LGA Management – PR: Saturday Group, Beatrice Savoretti – Music: Leslie Deere – Shoes: Jimmy Choo – Casting: Shelley Durkan – Show Photographer: Piers Cunliffe – Show Videographer: Jacob Fn Photography – Backstage Photographer: Liam Fuller – Hair: Bianca Tuovi @ CLM – Makeup: Mel Arter @ CLM – Head of Nails: Roxanne Campbell
The highlight of the day came in the form of Sid Neigum's mathematics-inspired and mostly monochrome collection. Chatting to Sid I learned that the starting point for silhouette development for the collection was a measurement of a shoulder line, say 30 cm for example, which was then multiplied by Da Vinci's golden ratio (1.6), applied rigorously by Le Corbusier and a hallmark of his modulor proportions, to determine the opposite shoulder line length, creating a harmonious set of measurements that formed naturally aesthetically pleasing proportions.
The best way to describe the experience of seeing the collection is to say that it all felt "right". It was at ease. The lengths, the volumes, the textiles. Not forced, but lovingly calculated and evolved from a series of applied multiplications, which led Sid to his final silhouettes. Sid is a patter-cutter who designs in 2D by working back from a 3D 'mental rendering' of what he's imagining he will make. He rarely sketches his designs, but rather sketches pattern piece shapes which he can mentally assemble before doing so physically. Brilliant. I plan to talk in more depth with Sid and bring you a more studied summation of his technique, but until then, enjoy the collection images.
Sid Neigum AW16. Shots of Sid and I by Moin Islam.
Finally, we dashed to the 100 Club on Oxford Street for a slice of Mary Benson magic, only to discover we'd missed the show and caught the party. Here are the post show leftovers and gif-ified show images thanks to Village PR: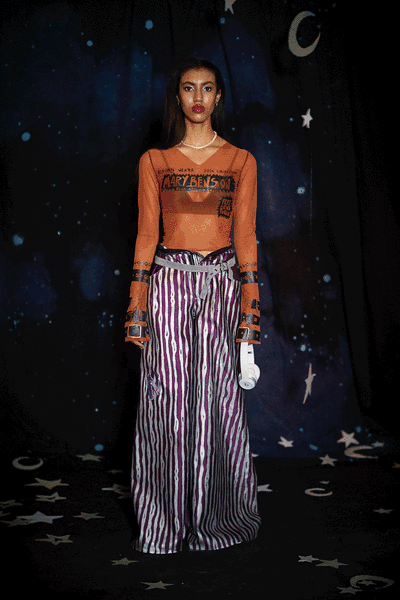 Mary Benson AW16
Styling: Louby McLoughlin – Hair: Jose Quijano @ D+V Management using Bumble and Bumble – Makeup: Marie Bruce using Urban Decay – Casting: Aamo – Production: Lizzie Cardwell – Press Release: Ione Gamble – Music: Twin//Venus with backing vocals by Kit Brown – Set Design: Dora Miller– Embroidery Collaboration: Aniela Fidler – Millinery Collaboration: Stephen Jones – Crystals: Swarovski – Jewellery: Sarah McCormack – Shoes: Converse – Headphones: Beats by Dre – Film: Trudy Barry – DJs: Emily Rose England, Matthew Johnson, Jon Beagley, Ben Gregory, Joe Skilton, Jamie Shaw.
I'll be popping in to see Mary and chat about a very special collaboration she did on a Bruise suit – cue geek-out technical textiles session. More Techstyling soon. Stay tuned.
Header Image: Sid Neigum AW16
Follow me: Twitter @Thetechstyler and Instagram @techstyler